Success is forward progress on a worthwhile dream.   
— bumper sticker on a carpenter's van

Leaning In on Brain Injury
Two and a half years ago I moved to Colorado from New York and began this chapter of my life as Molly's caregiver. It's not what I expected and it's more consuming than I'd ever imagined. It's hard. I haven't found ease, but I'm gaining experience and taking it all one day at a time. I am also very clear about how fortunate I am. I'm extremely grateful for my good life and the opportunity I have to be a caregiver in my family.
I've discovered I'm pretty good at it. Caregiving, especially to a loved one with a brain injury, requires special tools: energy, motivation, lots of organizing, energy, resourcefulness, empathy, sacrifice, positivity, and energy. Hey! I'm just the gal for this job! Ha-ha!
But seriously, I am practicing with these tools and gaining new skills. Yet, I'm aware already that I will need new tools going forward. I have much to learn as I attempt to keep up with the ever-shifting nature of Molly's brain injury. For now, I'm glad to be making headway in helping her to have a happy life.
Caregiving can be confounding and gratifying. The rewards are quiet and real.
Here now, an update about Molly, family, and caregiving. Next time, what caregiving, career ideas, and worthwhile dreams might look like for me.
Successes in Coping with Brain Injury
I came to Denver to be Molly's primary caregiver and to relieve my mother of that job, which she'd done for almost two decades. Check, and check.
Mom is blooming, thriving, even, and enjoying her life fully and in lots of new ways. I jumped in to being Molly's full-time caregiver right away, but Mom took time away from her new life to instruct me through the complex paperwork, finances, and logistics of being the manager of Molly's world. And now, Mom keeps busy with other activities; from ballroom dancing to her Rotary group and Pilates classes. She has time to enjoy music, theater, opera, art museums, and films. She has a nice gentleman companion and many friends in Denver, and she loves to travel to visit other friends and experience new places. And when Mom spends time with Molly these days, it's a sweet mother-daughter relationship again, and that's a heartwarming outcome.
Moving Molly
The biggest change I initiated as Molly's caregiver is that she now lives in a wonderful home for people with brain injuries. I could never have dreamed that moving her out of her house would result in so many positive changes for her. It's not always easy and it's not perfect, but the benefits to Molly are remarkable.
Molly lives in a great neighborhood south of Denver in a modern, bright, spacious home where each of the five residents has a private bedroom and shares large common spaces. The home is staffed 24/7 with caring, trained professionals who prepare meals, help with house chores, monitor residents' health, plan birthday parties, provide companionship, and offer a range of activities each week.
Molly enjoys her housemates, usually, and likes doing some of the activities with them. Molly also complains and chooses not to participate sometimes. She has a counselor who is working with her to get along better with others. When it's Molly's turn to choose an activity, she loves outings to the library (she's become a voracious reader) and, of course, to Starbucks – her favorite home-away-from-home any time, any day.
Today, Molly is in a better place than when she lived alone in her house where she increasingly became less independent and needed more assistance with everyday tasks. She is safer, better socialized, and does not isolate herself now. She is also stronger, healthier, and walking better.
Best of all, her attitude towards me and all of her family members has turned arou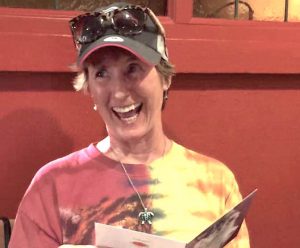 nd. I spend a day or two a week with Molly and speak to her by telephone nearly every day and her disposition is cheerful, not angry, as she was almost all the time before. She is grateful, not grouchy and mean. She can even be empathetic, occasionally. I'll often try to prompt this from her when we're talking because her conversation is limited and on the surface only. Still, she'll observe I'm wearing the earrings she gave me or see that I bought her favorite hand lotion or realize I mended the hole in her sock, and she'll surprise me with a kind comment or a "thank you."
These are qualities we rarely saw from Molly in the past few years before she moved. And Molly is delighted and encouraged when she receives pleasant reactions from others—family and strangers alike. When she tells the barista how nice her hair looks, Molly beams when the barista stops and smiles to say thanks. Molly even enjoys laughing with young children these days and seems to connect with their wonder of the world.
The Value of Family Caregiving
Another benefit for me and my family with my being Molly's caregiver is that for the first time in decades, my mother and all four of her daughters – Molly, me, Sara, and Mary K.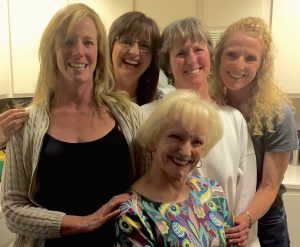 – live in the same state. Mary K. and her family moved from Omaha and purchased Molly's house after she moved out, so they live just down the street from my mother. I bought a small condo around the corner, just a short walk away. And Sara and her family still live in Glenwood Springs, one of Colorado's nicest mountain towns.
Being Molly's caregiver is full-time work, as most caregivers well know. Yet, the caring I do for Molly and other family members, too, is satisfying and joyful to me. It's my priority. And with a salary from Molly's trust, I'm in a position to make the time to do the best I can. I know I'm a lucky caregiver to have these advantages. In addition to caring for Molly, I'm able to do other related tasks for my family. For example, I've done lots of house repairs, packing boxes, and moving furniture. (I did 11 moves in 17 months of either myself (four moves) or a family member.) I also care for my family members when they need a helping hand, and when they travel, I care for their pets (our four-legged family members).
My family members express their gratitude generously and I'm glad to be helpful. I'm also benefitting by learning to be a more creative problem-solver and more compassionate — tools I will need more and more going forward.
***************************
Share Your Thoughts
We can learn a lot from each other. If you have suggestions, ideas, or questions about caregiving or helping someone who has a brain injury, please share them in the comments below.
Also, sign up on my website with your email, and I'll send you the first chapter of my book to read. Meanwhile, please check out my easy-to-read blog post about carbon monoxide. It's a quick primer about how carbon monoxide occurs and how to protect yourself and loved ones from carbon monoxide poisoning. Thank you!
Take care,
Lyrysa
P.S. Do you know someone who might benefit from or be interested in this openhearted conversation about brain injury and caregiving? Please share this blog post using the social media links below or forward it via email. The more voices, the better. Thanks again.